How to Find the Right Counsellor for Addiction
Addiction can have a tremendous impact on an individual's life and the lives of the people closest to them. It can be difficult to seek out help, which is why finding the right counsellor for addiction is so important. The right professional can help make the journey to recovery easier and more successful. Here, we discuss how to find the right counsellor for addiction that's the right fit for you.
The first step in finding the right counsellor for addiction is to do some homework. Research the type of addiction that you are dealing with, as well as the types of therapies available. Look at forums and reviews to see what experiences people have had with different therapists. Use search engines to find counsellors in your immediate area and read up on their qualifications. Check out their websites and social media accounts to get a sense of their specialty and approach to therapy. If you feel like you have found a good fit, make sure to schedule a consultation with the counsellor.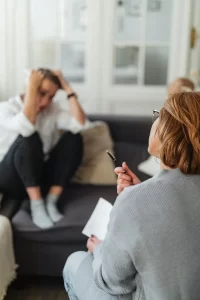 When preparing for your consultation, make a list of questions to ask the counsellor. Ask them about their experience and qualifications, how they typically approach addiction treatment, and what their belief and philosophy is on recovery. Ask them about their methods and how they will support you on your journey to recovery. Most importantly, ask yourself how comfortable you feel when talking to them. Remember that it is okay to walk out of a session if you do not feel like your needs are being met.
The next step in finding the right counsellor for addiction is to trust your instincts. You have to feel comfortable with your counsellor and confident in their ability to help you. If something doesn't feel right, it may be time to move on. Talk to loved ones and consider seeking advice from a mental health professional. If you know someone who has gone through addiction treatment, talk to them as well. It can be helpful to hear their stories and get a better idea of what to expect.
It's also important to find a counsellor who is a good fit for your budget. Research what types of insurance they accept and find out if sliding scale fees are available. If you're paying out of pocket, ask about payment plans and other options.
Once you find the right counsellor for addiction, it's important to remember that recovery is a process. It takes patience, effort, and consistency. Commit yourself to attending sessions and being patient with yourself. The most successful recoveries come from working closely with a counsellor who will be there for you every step of the way.
If you or someone you love is struggling with addiction, remember that the first step is talking to a counsellor who can provide you with the help you need. Finding the right counsellor for addiction can be a daunting task, but it is possible. With some research, asking the right questions, and trusting your instincts, you can eventually find the right counsellor for you.